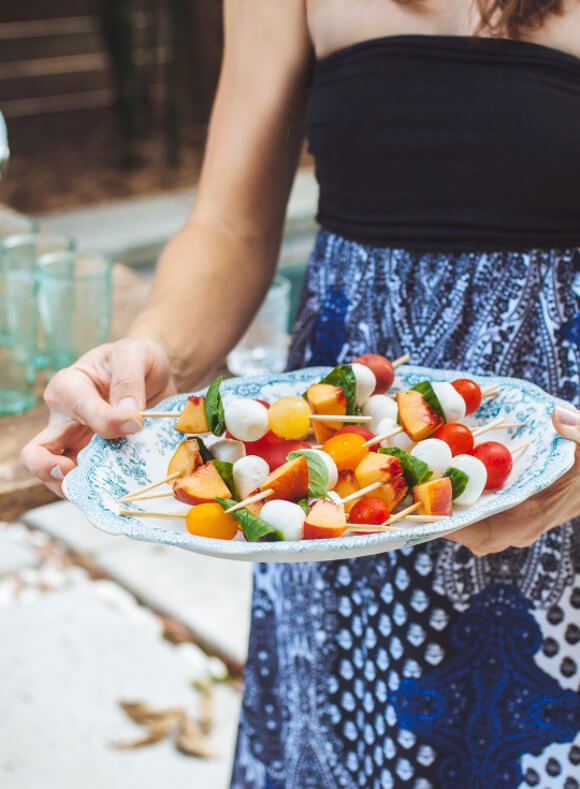 Whether your plans for the 4th of July are swimming in the sun or celebrating in the San Francisco fog, you'll definitely be enjoying some summer food. Substitute the burgers and potato salad for these mouth watering recipes and make your party the healthiest one on the block.
Appetizers
Tomato Basil and Peach Skewers (pictured above):  Adding peaches to tomatoes, mozzarella and basil will make an impressive, sweet and savory appetizer.
Avocado, Black Bean and Corn Salad: You can't go wrong with these 3 ingredients. Dress with plenty of cumin and citrus and you have an easy, versatile dish to serve with chips, on top of tacos or as a side salad.
Watermelon Feta and Mint Bites: Simple and easy to make (only 3 ingredients). Plus, nothing says summer like watermelon and mint.
Sides
Napa Cabbage and Kale Coleslaw: While coleslaw is usually one of the only vegetable sides to a traditional BBQ, it's usually more mayonnaise than veggies. Instead, substitute a lighter (but still creamy) miso dressing and add in lot's of leafy greens.
Fresh Herb Potato Salad: This recipe from Thug Kitchen uses fresh herbs and a flavorful vinaigrette for a fresh take on traditional potato salad.  As they say on their site "nobody needs mayo in their life".
Entrees
Grilled Portobello Mushroom Burgers: Easy to throw these on the grill with your meaty burgers for a hearty vegetarian option without extra fuss. This recipe also includes an avocado chimichurri recipe worth making.
Grilled Fish in Foil: Cooking for only a few? These 20 minute grilled fish would be great for 4-6 people. Easy to clean up and unlike a heavy burger will leave you with room for dessert. These also work in the oven.
Grillable Veggie Burger: The problem with most veggie burgers is that they don't hold up on the grill, right? Wrong! Minimalist Baker has a solution with a grill worthy vegetable burger made with only 10 ingredients.
Dessert
Grilled Fruit: Try pineapple, peaches and even watermelon on the grill for a low calorie and festive dessert option that will please kids and adults, alike.
No Churn Peach Sorbet: As easy as making a smoothie. Just blend and freeze and you'll have homemade peach sorbet.
Bring one of these recipes to your summer potluck or party and impress your friends with your healthy taste. You can even take all the credit for it, we won't tell!