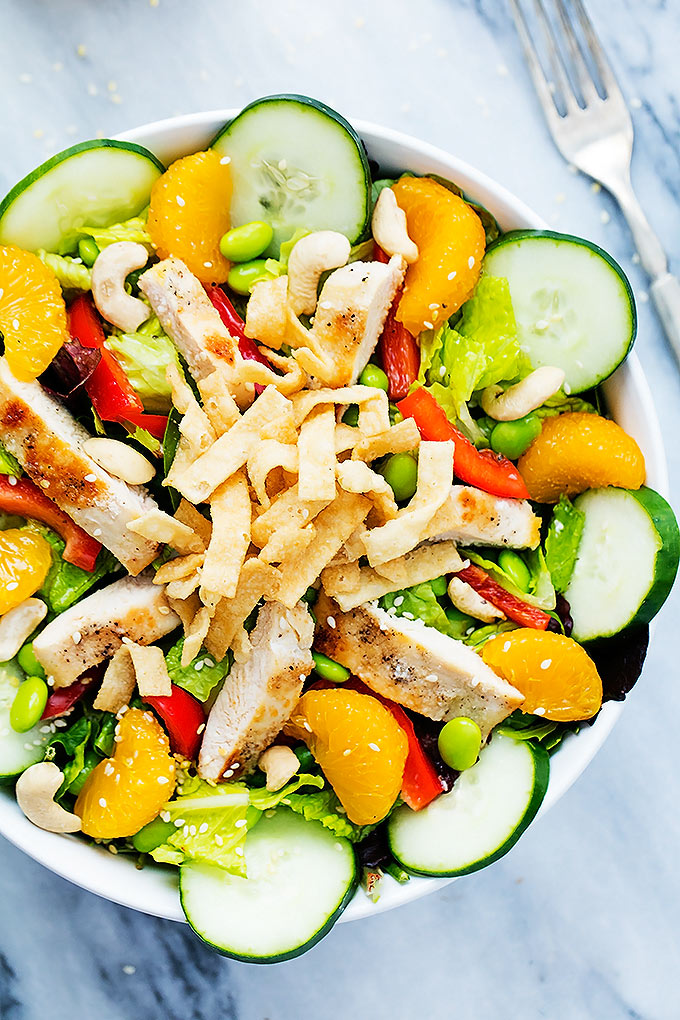 Salads are great any time of year, but at BootCampSF we believe the spring season and salads definitely compliment each other. So we have rounded up five of our favorite mouth watering, beautiful salad recipes that also are safe for your waistline.
Asian Citrus Chicken Salad
This healthy and hearty salad is a BootCampSF favorite — with cucumbers, edamame, mandarin oranges, wonton strips, cashews and a simple (yet beyond flavorful) sesame ginger dressing. And not only will this salad delight your taste buds, the ingredients come together on your plate quite beautifully, as well.
Quinoa Fruit Salad with Honey Lime Dressing
Packed with flavor and vitamin C, this recipe has blueberries, strawberries, and mango. But there are many fruit combinations you can mix together — like peaches, blackberries, raspberries, kiwi, and pineapple. Any variety of quinoa works for well for this one.
Lemon Poppyseed Broccoli Salad
This delicious, simple, and quick lemon poppyseed broccoli salad is a hit at potlucks. Broccoli, dried cranberries, sunflower seeds, sharp cheddar cheese, and sliced almonds with a delicious creamy lemon poppyseed dressing. Yum!
Skinny Chicken and Avocado Caesar Salad
This salad makes a hearty meal, but doesn't pack all the calorie punches of a traditional Caesar salad. You'll enjoy grilled chicken pieces, creamy avocado slices, eggs, and crispy bacon (optional)!
Mediterranean Cucumber Chickpea Salad
A simple and fresh Mediterranean salad packed with cucumbers, chickpeas, tomatoes, sweet peppers, parsley, and feta and topped with a lemon olive oil dressing. This salad is perfect as a side dish or as a whole meal.
Photo courtesy of: Creme de la Crumb