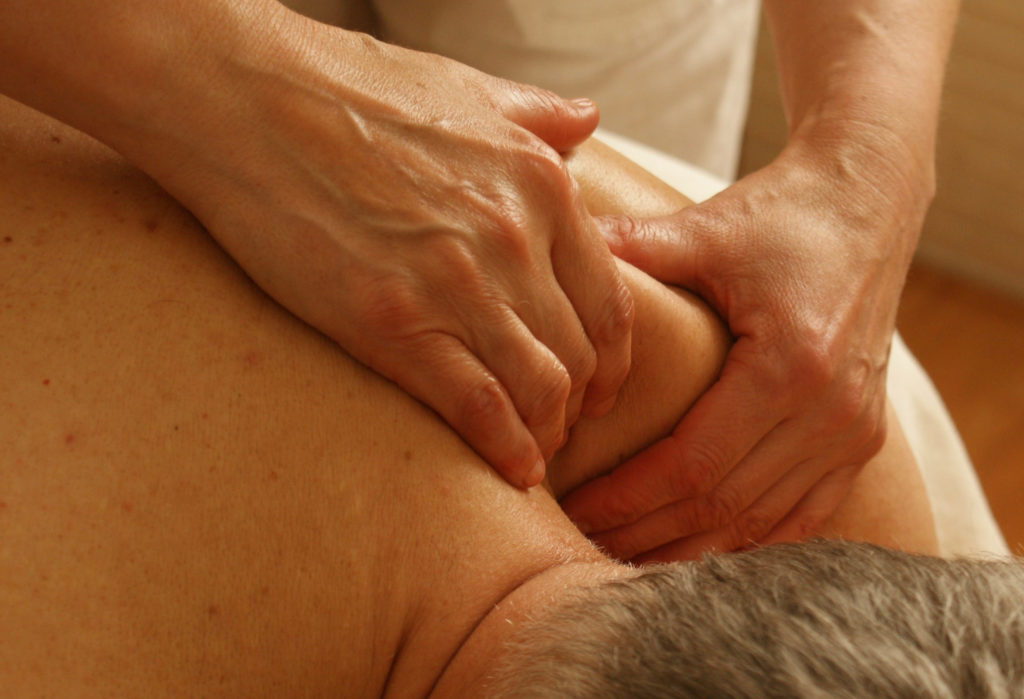 At BootCampSF we train you the way coaches train athletes. Each day is a different workout, and includes a combination of cardio training, cross-training, and strength training. BootCampSF workouts are designed to constantly challenge your body in unexpected ways, and this can often result in sore muscles — especially if you're new to training. So before you reach for the medicine cabinet to ease your aches, consider soothing those muscles with a sports massage.
What is a Sports Massage?
Sports massage is a systematic manipulation of your body's soft tissues and geared toward individuals who are physically active. A variety of movements and techniques are used in a sports massage. These techniques include: the Swedish style massage, stroking, kneading, rhythmic striking, stretching, and trigger points, among others.(1) This kind of massage can relieve pain, as well as help athletes recover from workouts and injuries more quickly. Even non-athletes can reap the physiological and psychological benefits of sports massage therapy.
Why are Sports Massages Beneficial to Boot Camp Athletes?
Reported benefits include:
Increased:
○ Sense of wellbeing
○ Blood flow
○ Flexibility
○ Joint range of motion (ROM)
○ Elimination of exercise waste products (lactic acid)
Decreased:
○ Muscle tension
○ Neurological excitability (nerves more relaxed)
○ Chance of injury
○ Recovery time between workouts
○ Muscle spasms
Heavy exercise can often result in muscle microtraumas. Meaning, minor swelling may occur due to small tears in the muscle. Sometimes the swelling and tears create delayed onset muscle soreness. According to the American College of Sports Medicine(2), delayed soreness can develop 12 to 24 hours after strenuous exercising, and may produce the greatest pain within 24 and 72 hours. Sports massages help lessen the swelling associated with the microtraumas thereby easing the muscle soreness. In addition to that, sports massages can relieve soreness because they promote blood flow to the muscle which removes lactic acid and waste buildup.
Also, increasing blood flow keeps the muscle tissues loose, so that different layers of muscle slide easily over each other. You can also reduce the amount of scar tissue while increasing flexibility and range of motion.
Stress and Pain Reduction
Possibly the best benefit that comes from a sports massage is its ability to reduce and manage stress. When you receive a sports massage, your body releases the neurotransmitters called endorphins.(3) According to Touch Research Institute endorphins are released by two centers of the brain known as the pituitary gland and the hypothalamus. This release becomes a natural pain reliever. Endorphins that are released due to having a sports massage help to lessen anxiety, improve mood, provide pain relief, and enhance your overall state of wellbeing.(4)
In Conclusion
Sports massages help speed your recovery time and alleviate pulls, strains, and soreness. They have also been linked to reducing stress putting you in a better mood.
Consult a primary care physician before attempting any form of massage therapy. If your doctor advises that a massage is right for you, find a licensed massage therapist who is nationally certified through the National Certification Board for Therapeutic Massage & Bodywork or the American Massage Therapy Association.
Sources
1) Massage Today: https://www.massagetoday.com/mpacms/mt/article.php?id=10712
2) American College of Sports Medicine: http://smiweb.org/
3) Touch Research Institute: http://www6.miami.edu/touch-research/AdultMassage.html
4) Prevention.com https://www.prevention.com/life/a20461789/how-massage-helps-with-depression-and-anxiety/