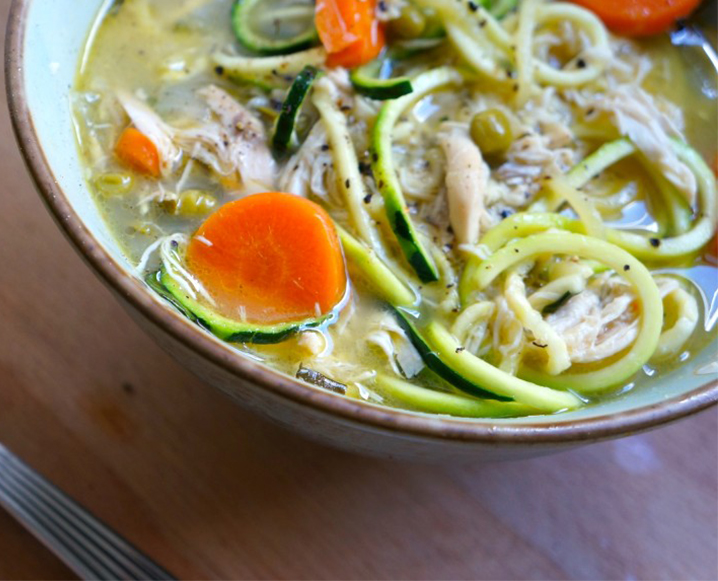 Comforting and healthy. Makeover your homemade chicken noodle soup recipe with these 3 simple swaps for an upgraded version of this classic, cozy meal.
Swap zucchini noodles (a.k.a zoodles) for traditional pasta noodles. Replacing flour noodles with a vegetables makes a lower calorie, nutrient packed bowl of soup. We suggest this spiralizer to turn everything from zucchini to sweet potato into noodles. You could easily use parsnip or turnip noodles in this recipe too.
Swap homemade bone broth for store bought.  Traditionally, chicken soup is made with bone broth. (Bone broth is made from simmering bones in water for a long period of time until a broth has formed). This broth is higher in protein, beneficial collagen and lower in sodium than any store bought variety. Read more about how bone broth has been shown to inhibit infection, promote strong bones and fight inflammation. If you're new to making bone broth, try using a crock pot and following these tips from Bon Appetit. The easiest way to make homemade chicken broth is to use the leftovers from a whole roast chicken (that way you don't have to pre roast the bones).
Add herbs and aromatics. A squeeze of lemon or garnish of fresh basil can turn a simple recipe into a bright and flavorful soup. Most herbs, spices and aromatics are packed with vitamins and minerals. Adding them to your cooking improves both flavor and nutrition.
Ingredients
2 organic chicken breasts (or about 3 cups shredded chicken)
2 tablespoons organic butter (or sub olive oil)
1 tsp herbs de provence
1/2 onion
3 carrots
2 cloves garlic
4 cups homemade chicken bone broth
1 cup frozen peas
Juice and zest of 1 lemon
2 zucchini
Instructions
Chop onions, carrots and garlic
Heat pan and melt butter in large soup pot or dutch oven.
Saute onions, carrots until onions are clear, then add garlic and herbs and sauté until fragrant (few minutes)
Add broth and chicken and simmer until chicken is cooked through. (If using chicken that's already cooked and shredded, add to pot and skip to step 6)
Remove chicken and shred with a fork.
Add peas. Simmer until soft (5 minutes)
Meanwhile, use a spirlizer to make the zucchini noodles
Add shredded chicken and zucchini noodles
Let simmer for 10 more minutes
Add lemon juice, zest
Season with salt and pepper and garnish with fresh herbs
Recipe and photo: momowellness.com