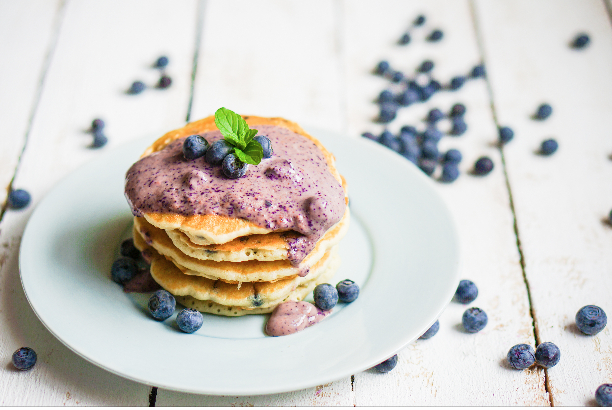 If you're a pancake fan (who isn't?) then you'll love this healthy recipe for cottage cheese pancakes.
Here's 5 reasons why we think this recipe beats traditional pancakes.
You can make them in the blender. Blend, pour, done.
18 grams of protein per serving (without the jam) and about 22g with it included.
Gluten Free. Use a blender or food processor and oats to make the "flour".
No added sugars, only a banana to sweeten.
Simple, staple ingredients mean you can whip these up on a random Sunday morning without a special trip to the store. (But this recipe is so easy to make and kid-friendly that we think these would make a great Mother's Day breakfast in bed treat)
Plus, they taste delicious.
Cottage Cheese Pancakes (serves 2)
1 cup rolled oats
1 banana
2 eggs
1 tsp vanilla
1 tsp cinnamon
2 tsp baking powder
1/2 cup cottage cheese
1/4 cup milk of choice (almond, coconut, regular)
Coconut oil to cook with
Directions
Make blueberry chia jam (recipe below). While it sits, make the pancakes.

Pulse oats in a food processor or blender until a fine flour forms

Add the rest of the ingredients and blend until smooth

Heat a small amount of oil in a skillet

Once hot, pour a small amount of batter into pan to create pancakes of desired size

When edges begin to bubble, flip and cook until both sides brown

Place in a warm oven until all pancakes are finished

Serve with chia seed jam (recipe below) and enjoy
Blueberry Chia Jam (makes about 2 cups)
2 cups frozen blueberries

1 Tbs. maple syrup

1 tsp vanilla

4 Tbs. Chia seeds
In a small saucepan heat blueberries, syrup and vanilla for 5-8 minutes, until a liquid syrup has formed.
Remove from heat and add chia seeds.

Stir well to mix. Let sit for at least 5 minutes (and up to overnight) to allow seeds to expand and absorb liquid. Continue to stir and mix every couple minutes.

Note: Store extra in glass container. Will last up to 2 weeks in fridge.
Resources: Nutrition info calculated from myfitnesspal.com
Recipe modified from ambitiouskitchen.com