Looking for an easy treat for your holiday potlucks and parties? Feel like making a festive dessert, but know that those christmas cookies leave you feeling overdosed on sugar?
Today's recipe has got you covered.
If you like the sweet, spicy holiday flavors of gingerbread, you'll love this recipe.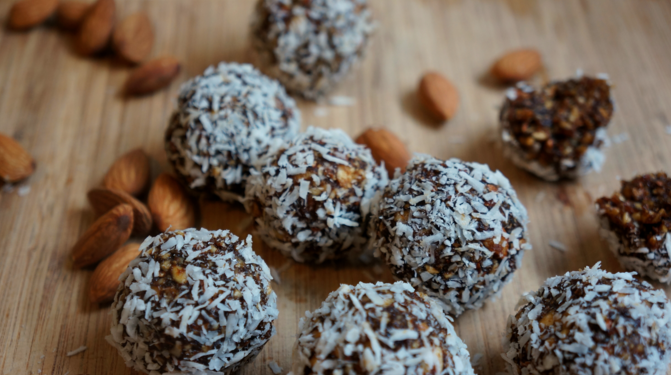 These little gingerbread bites contain NO sugar or refined sweeteners, flour or dairy. They're so healthy you could even have them as a pre or post workout bite.
The best part?
They don't require any baking or complicated ingredients.
Simple, easy and nutrient dense, these will become your new favorite holiday treat.
Ingredients (makes about 18)
2 Cups raw mixed nuts (almonds, cashews, pecans, walnuts, brazil)
6 Soft medjool dates, roughly chopped
2 Tbs unsulphered blackstrap molasses
1 Tsp. Cinnamon
1 Inch fresh ginger, peeled and minced
Ground nutmeg and cloves to taste (a dash or two)
Dash Himalayan or sea salt
Shredded coconut for rolling
Directions
Pulse nuts in a food processor until coarsely chopped (should resemble gravel)
Add all other ingredients, except coconut and process until smooth dough forms
Scooping out into 1 inch balls, roll in shredded coconut
Store in fridge (will last 7-10 days)
Recipes like these are a great healthy swap for flour and sugar filled treats.  Try making them for your office party, holiday dinner or cookie exchange. They'll such a hit that no one will even notice they're healthy.
Happy Holidays!
(photo via momowellness.com)