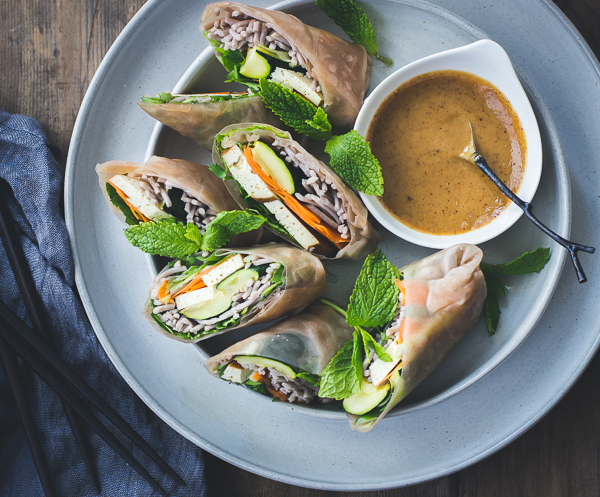 Homemade fresh rolls are an excellent no-cook recipe for summer nights. They're easy enough to make during the week, but impressive enough to serve for a dinner party. Add a hearty sauce and pre-cooked protein to make them a meal, or leave simple for a healthy appetizer.
We love this mix-n-match recipe for being adaptable and veggie-packed. The only prep is chopping the vegetables. Ideally, they would all be julienned into matchsticks like the pros. Or you could do like us, and just cut vegetables into small-ish strips and call it good.
Ready? Here's what you'll need:
INGREDIENTS
1. Rice paper wrappers
2. Sauce (see recipe below)
3. Filling Ingredients (mix-n-match from below)
DIRECTIONS
1. Prepare all filling ingredients (if adding noodles, make sure they're cool)
2. Make dressing
3. Fill a shallow pan or cookie sheet with warm water
4. Place one rice paper sheet in pan and let "cook" for about 20-30 seconds
5. Remove from pan, let drip dry and fill with ingredients of choice.
6. Spoon sauce inside and roll like a burrito. Set aside and repeat.
Note: you can make these in advance for dinner guests or let everyone make their own for a fun dinner party idea or hands on meal with the kids.
3-4 Vegetables, julienned
Carrots
Cucumber
Bell Pepper
Cabbage
Butter lettuce or romaine
1-2 Fruits, chopped small
Avocado
Mango
1-2 Herbs, minced
Mint
Cilantro
Parsley
1 Protein
Cooked, shredded chicken
Sliced, Tofu or tempeh
Cooked shrimp
Other Additions
Mung Bean Sprouts
Rice Noodles or soba noodles
Dipping sauce Recipe
3/4 cup nut butter (almond, peanut or cashew)
1/4 cup rice vinegar
1/4 cup water
1/3 cup reduced sodium tamari (you could also sub coconut aminos or soy sauce)
2 Tbs. Honey
1/2 Tsp. ground ginger
1 clove garlic
Blend all ingredients until creamy.
We hope you enjoy this healthy summer recipe!
(Image courtesy of Alanna Taylor Tobin | The Bojon Gourmet)