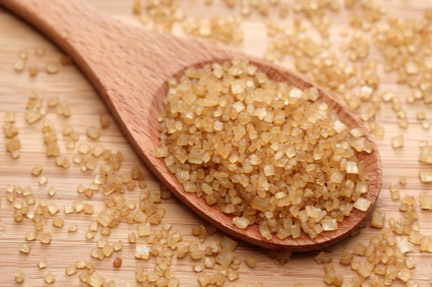 Remember when agave syrup was all the rage? Today, you might be hearing more and more about coconut sugar.  But are these alternatives really healthy choices?  It can be confusing, especially when it comes to baking and cooking at home.
So whether you're baking a dish for a potluck or your favorite holiday recipe, we've listed the pro's and con's of common sweeteners. From sweeteners to avoid to the more nutritional choices, we'll show you how to substitute each of these alternatives in your go-to recipes.
Reduce List: Sucrose / high fructose sweeteners
Refined white sugar: Conventional table sugar, or sucrose, is derived from sugarcane or sugar beet and processed through heat, chemical purification, and bleaching. This type of sugar is highly processed, high glycemic and no nutrients.
Brown sugar: White sugar plus molasses. (We know! We were shocked too.)
Organic sugar: The same as table sugar, but derived from non-GMO beets or sugarcane. While avoiding GMO's is a plus, organic sugar is nutritionally the same as table sugar.
Agave syrup: Despite it's claims as healthy alternative to sweeteners due to it's low glycemic index, agave is on our avoid list. It's a refined and processed syrup made from cactus with a molecular structure similar to high fructose corn syrup (90% fructose). Cheaper brands and quality may even contain high fructose corn syrup.
Better list: Low / no fructose
Coconut (Palm) sugar: Low on the glycemic index, minimally processed and still contains some nutrients. However, still high in fructose (up to 50%). This is the easiest alternative to white sugar as it doesn't change the recipes.
-Use  1:1 in recipes that call for regular sugar.
Brown rice syrup: Made by breaking down and cooking rice until it becomes syrup leaving complex carbohydrates, maltose and a small amount of glucose. This makes brown rice syrup popular a low/no fructose option. Although it can be hard to find good quality brands.
-Use 1-1 1/4 cups in place of sugar in recipes and reduce liquid by 1/4 cup.
Honey: Therapeutically used for allergies, honey contains many healing minerals and qualities. Quality is the factor that determines if this sweetener is "healthy" or not. Pure, raw and organic darker honeys have great antioxidant content. Good to sweeten beverages and drizzle onto snacks. But when using for baking, can lose most of it's nutrients. However, honey is still high fructose at 40%.
-Use 1/2 the amount of honey to sugar in recipes, add 1/2 tsp of baking soda per cup of honey and reduce baking temperature by 25 degrees F.
Maple Syrup: Like honey, this sweetener is high fructose (40%) but it can be argued that it contains a good amount of some vitamins and minerals. Grade B and C contain more nutrients than the more processed and cheaper Grade A. Unless it's labeled "pure" it may be mixed with corn syrup or other sweeteners. Maple syrup is a good sweetener choice for baking and heating.
– Use 1/2 to 2/3 cups maple syrup for each cup of sugar and reduce liquid by 1/4 cup.
Stevia: Derived from the stevia plant, stevia powder has low/no effect on blood sugar and also no calories making it a good option for those watching their glycemic index or caloric intake. However, like honey, quality is what determines the health factor. Look for pure and organic. Stevia has a distinct taste and is hard to use in baked goods since it's  300x sweeter than sugar. However, it can be a good tool for those transitioning off of sugar and sweets.
– 1 tsp of finely ground stevia is about equal to 1 cup of sugar. However, stevia isn't recommended to be subbed for sugar in recipes that don't call for stevia as the sweetener already.
Best Choice List: Sweet Whole Foods
Bananas /Dates / Fruit: There are many recipes for cookies, brownies, and cakes  that use unrefined whole foods as the main sweetener. While bananas and dates are high in fructose they contain the fiber that slows down the glycemic response, unlike the above condensed sweeteners. They also contain enough nutrients to support their metabolism. Berries are the lowest fructose fruit.
Spices: Sweet spices such as cinnamon, nutmeg or cloves can help give the illusion of sweet. Try adding cinnamon to coffee or tea instead of sugars.
Coconut: Coconut has a naturally sweet and nutty taste that can help satisfy a sweet tooth. Try using shredded coconut on top of oatmeal or using coconut oil saute banana slices for a caramelized treat.
Save this guide for the next time you'll be baking your favorite cookie or dessert. Or even better, try bringing a no sugar option like a berry crisp or fruit salad to your next potluck or party.