Workouts while traveling are notoriously challenging. If you travel for work, you're busy with deadlines and possibly jet lagged. If you're traveling for leisure or simply to spend time with family, you are limited with time:  you did just travel however far/long to spend time with them right? But the bottom line for any type of travel is the same:  you are without your typical workout resources (e.g. if you're a cyclist what do you do without your bike?).
This Thanksgiving weekend I experienced some of these obstacles myself while in Taos, New Mexico. Besides the lovely company I was keeping, Taos is beautiful, serene and clocks in around the 7,000 elevation foot mark. It's most definitely high desert. Our house is significantly far from the city center and rests somewhere around the 7500-foot elevation mark. It's high. For reference, it's higher than many of the main destinations of Lake Tahoe.
Being far outside the main part of town and needing to share a car with the family, of course if I wanted to workout, I need to take my workout outside on my own terms. Given my background, it's generally not something I view as a workout deal-breaker.
My first morning here, I mapped out an "easy" 3.5 mile route.
That road doesn't look like much of a hill, but I can assure you when you're at 7500 feet, a slight incline feels slightly Mt. Everest-ish. Basically, for all of the run, it sort of felt like someone was standing on my chest. While running. My lungs felt h-e-a-v-y and my breathe was quicker than usual. Very early on in the run I decided that it was not as easy of a run as I'd thought it would be. See above:  "easy 3.5 mile run".
It was the hardest run I'd done in months.
I completed this run 3 times while in Taos and it didn't feel all that much easier each time I went out (and on the 2nd run, the windchill temperature was hovering around 16 degrees!). I watched my pace, though not as religiously as I might at home, and it wasn't as slow as I felt. But it didn't really matter:  it just felt harder.
And it was humbling.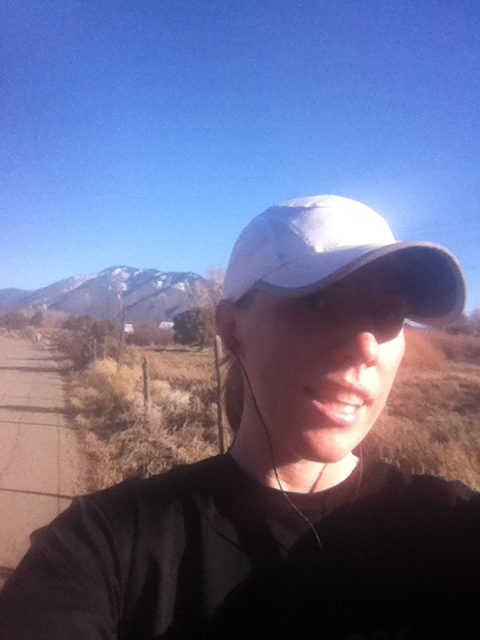 It reminded me of how it feels when something that feels "easy" to you much of the time, feels hard again. It was a good reminder for many things:  to not skip my own workouts even when it feels "hard" and to never forget how hard exercise can feel. And how it has felt for myself in the past. It's a good feeling to have.
I hope you all had wonderful Thanksgiving workouts!
See you outside,
–Catherine Wohlwend, General Manager @ BootCampSF
P.S.
If you want to read a little bit more about why running at elevation is "hard", here are a few resources:
Running Times / Trail Running Article