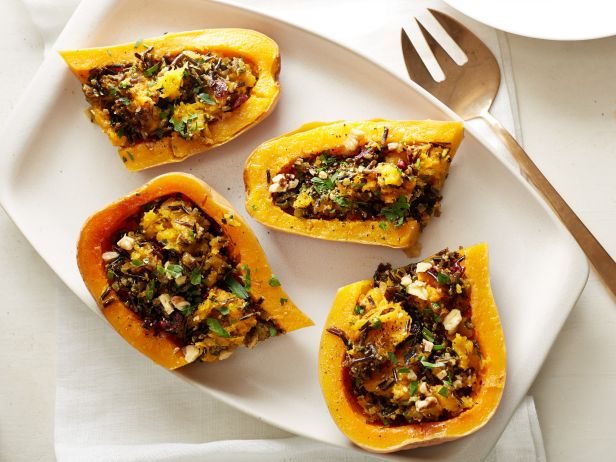 Are more of a fly-by-the-seat-of-your-pants cook?
Us too.
That's why we love this mix-n-match guide for making stuffed winter squash.
A hearty and healthy meal you can adapt to whatever you have on hand.
Here's how it works:
Base Ingredients
1 squash (acorn, kabocha, butternut, delicata)
Olive oil
2-3 cups of filling per squash (depending on size)
Filling
1/2 – 1 cup protein – sausage, chicken, pork, tempeh, tofu or beans
1/2 – 1 cup vegetables – onions, mushrooms, zucchini, peppers, greens
1/2 – 1 cup cooked grains – quinoa, rice, farro
Herbs and/or spices
Optional: nuts/seeds – walnuts, almonds
Optional: shredded cheese for topping
Preheat: Oven to 375
Prep the squash: Slice the squash in half and scoop out the seeds
Bake Squash: Place the squash halves cut-side-down in a baking dish and add about 1/4 inch water. Cover the dish with foil and bake until a knife easily slices through (anywhere from 30 to 50 minutes)
Prep filling: While the squash is roasting, prepare any filling ingredients (cook meats or veggies fully) Combine all the ingredients in a bowl and season with spices and herbs.
Stuff the squash halves: Rub inside of cooked squash with a little olive oil and pack with stuffing ingredients. Top with shredded cheese if using.
Bake again: Re-cover the pan with the foil and bake the halves for another 15 to 20 minutes until tops are crispy and/or cheese is melted.
Here are some ways you could mix-n-match:
Sausage + mushrooms + onions + kale + farro + sage + walnuts
Chicken + bell peppers + black beans + chili powder + pepper jack cheese
Turkey + onions + thyme + dried cranberries + parmesan cheese
Tofu + mushrooms + spinach + garlic + scallions
Not sold on the mix-n-match idea? Here are 5 recipes to get you inspired:
This post was inspired by the Kitchn's How to Make Stuffed Roasted Squash