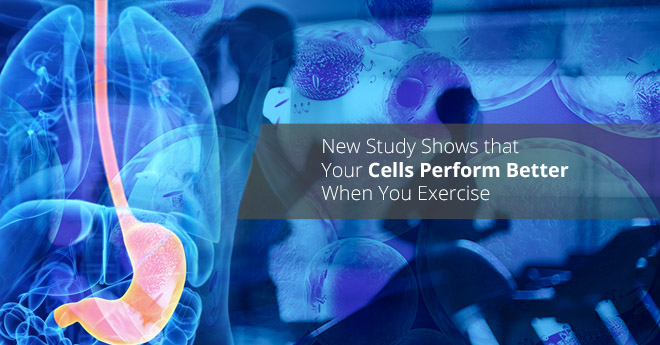 For all of our readers who work hard to merge fitness and nutrition to reap the simultaneous benefits of both, you'll be interested in the results of this new study. Have you struggled to maximize your feeling of well-being with nutrition alone? Have you thought of exercise as something that benefited your overall strength, and nutrition as something that benefited your cells? Well, think again.
According to a new study in the journal Cell Metabolism (2017; 25 [3], 581-92), exercising on a regular basis makes a difference that goes all the way to the cellular level. In other words, if you want your cells to give you their optimum performance, you have to do more than eat right. But what improvements in cellular function can you expect when you get great nutrition and exercise?
Scientists took muscle biopsies from the volunteers in this study to see how the cells were performing after the volunteers performed varying types of exercise. These were some of the things that they saw:
Improvements in cellular function
The ability of mitochondria to generate energy more efficiently
Increased muscle mass
Better insulin sensitivity
Increased aerobic capacity
More gene transcription within the cell
Reversal of key age-related differences in the cell
All of these are good things! Here's what this technical-speak means in plain language:
When you eat a good diet alone, your cells will see a difference, because they'll have the building blocks that they need to do their jobs. However, when you do regular exercise, you'll optimize your cellular function even more!
Cells use a "currency" called ATP (adenosine triphosphate) for energy. If you have enough ATP, you'll be able to do the things you want to do. ATP is manufactured in the mitochondria of your cells, and this study showed that exercise caused the mitochondria to be better at doing their job. It's a classic example of an upward spiral. Exercise more, and your body becomes able to deliver more energy. This is encouraging for anyone who is just getting started in a fitness program. Give it time, and your cells will learn how to be better, faster, and more effective at delivering the energy you need to do your workout.
Most people are aware that the best lifestyle you can choose is one that combines healthy diet and exercise for well-being, health, and longevity. However, it would be easy to just stop at the basic thought that exercise just builds healthy muscles. It certainly does do that, but it is far more exciting that exercise even contributes to building healthy cells. Your cells need to be healthy, efficient, and performing well in order for you to feel great, stay healthy, and live longer.
The great news for all of our customers here at Boot Camp San Francisco? The type of exercise that resulted in the most benefit to the participants in the study was a combination of high-intensity aerobic training and resistance training. That's exactly what you'll get when you join us for boot camp workouts. We have multiple locations all over the San Francisco bay area to serve you, so sign up today!