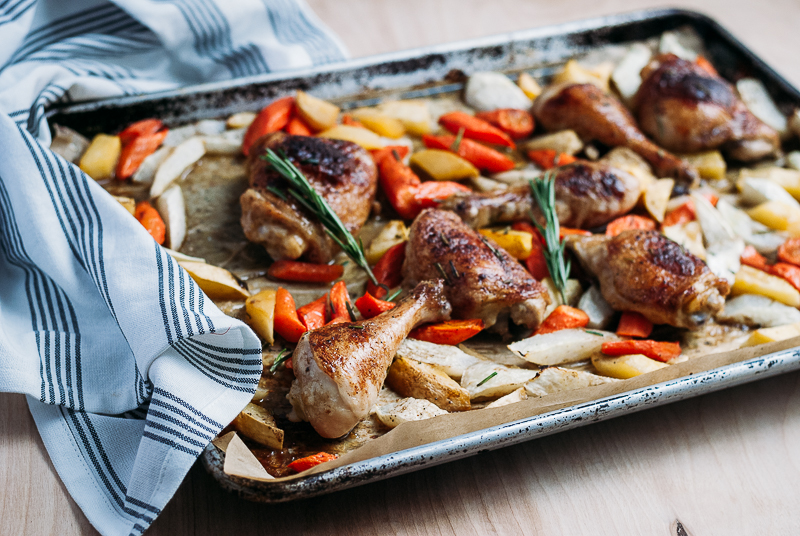 We're big fans of healthy food.
However, long lists of ingredients, dirty dishes and complicated directions…not so much.
That's why we share recipes that not only have the nutrition tick of approval, but are also low fuss.
(Check out our No-Dish-Fish  or Egg Muffins for more simple recipe ideas)
You might have heard of  "one pot meals", but have you ever heard of "one pan meals"?
All you do is put all your ingredients (meats and vegetables) on the same pan to roast in the oven.
Brilliant!
Here's an easy one pan balsamic roasted vegetables and chicken dish to add to your weeknight rotation. It's easy to make and best of all, quick to clean up.
Ingredients
2 pounds organic chicken thighs and or drumsticks
4 Cups washed and bite size chopped mixed vegetables (onions, carrots, broccoli, potatoes)
3-4 Cloves garlic
3 Tablespoons Balsamic vinegar
3 Tablespoons olive oil
Chopped fresh parsley
Salt and pepper
Directions
Preheat oven to 400 degrees
Spread chopped vegetables and garlic onto bottom of 2 large baking dishes (there should be space between the pieces. Too close together and veggies will steam instead of roast and get mushy)
Toss with olive oil, balsamic and salt and pepper
Rub chicken with a little olive oil and sprinkle with salt and pepper
Lay chicken on top of vegetables and bake for approx. 1 hour or until chicken is fully cooked
(If vegetables need more time, remove chicken and bake longer)
Garnish with parsley
Serve with a side salad and dinner is ready. This would make great leftovers for a brown bag lunch the next day. If you're vegetarian, check out this roasted tofu and vegetables dish.
(Image via babble.com)