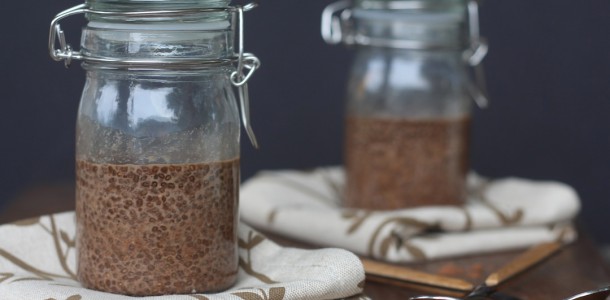 One of the biggest challenges we all face is how to deal with a busy schedule and still eat well.
The best way to tackle a busy day is to have your food already packed and prepped. That means the forethought of meal prep and planning. But if you're really slammed, then that can be a challenge too.
The good news is that we have a recipe below that makes a great breakfast or snack and that will keep you eating well without spending more time in the kitchen.
This chia seed pudding recipe takes about 5 minutes to make and you can have enough for 4 hearty snacks.
Plus, it's chocolate.
Win, win.
Chia seeds are a seed known for their Omega 3 content. Omega 3's are ranked one of the most important essential nutrients (1). In the nutrition world, the word essential means our bodies cannot produce the nutrient so the only way to get it is through our food.
In the short term, increasing the amount of Omega 3's in your diet can help reduce inflammation. And in the long term, a proper Omega 3 balance has been shown to decrease the chances of some chronic diseases (1).
Try this chia seed pudding recipe that is high in Omega 3's, fiber, complete protein and is a perfect snack for busy days and weeks.
Overnight Chia Pudding
Recipe (and image) modified from paleomg.com
Ingredients (Makes 4 servings)
1. 5 cups almond or coconut milk
1/3 cup chia seeds
2-3 Tbs. pure maple syrup (Grade B)
4 Tbs. unsweetened cocoa powder
Dash of cinnamon, salt and vanilla
Directions
Add all ingredients to a large bowl and whisk well, making sure all of the chia seeds are dispersed.
Let sit in the fridge overnight.
Serve chilled (and optionally topped with fresh berries or fruit)
Tip: These are great to make in single-serving portions in mason jars for grab-n-go snacks. (For a single serving try 3 Tbs. Chia seeds to about 1 Cup liquid)
Pro Tip: If you have extra jars lying around, you can add all the dry ingredients to your jars and store. Then, when you know you'll need a breakfast to-go, just add your liquid the night before, shake and done!
Nutritionist tip: Increase your Omega 3's by eating cold water fish 2-3 times per week and snacking on walnuts, chia pudding and hemp seeds.
Try this recipe out this week! And don't forget to tag #nourishbcsf to share!
Sources:
1. http://articles.mercola.com/omega-3.aspx