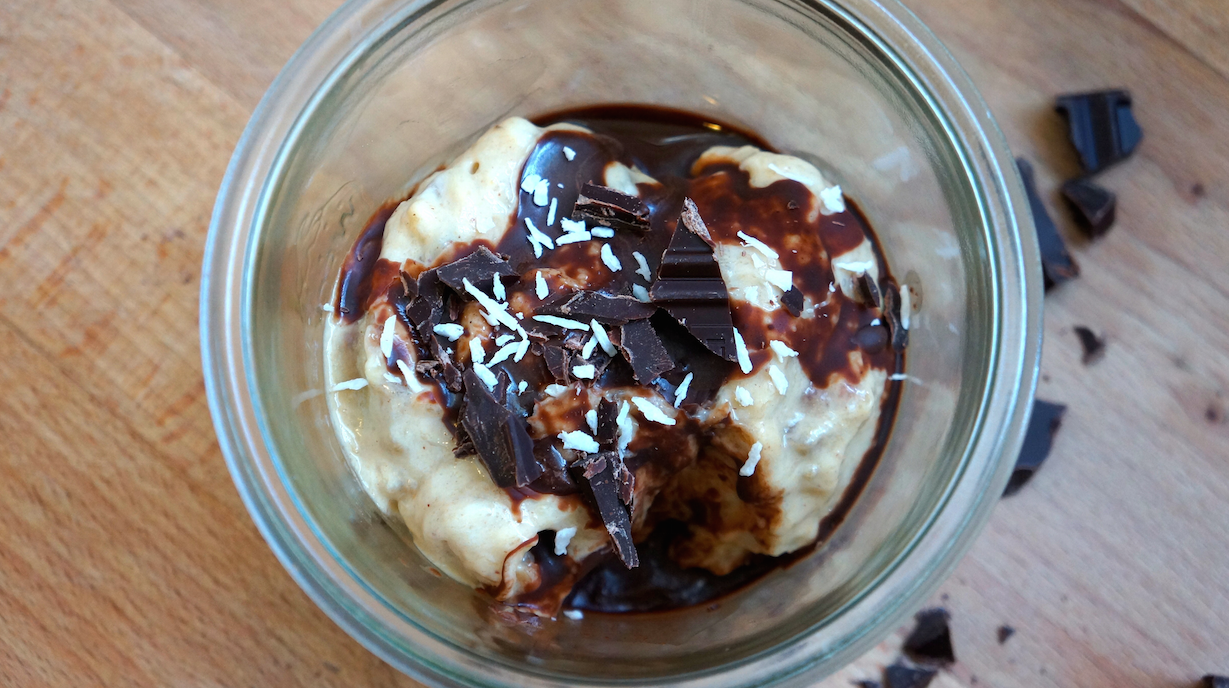 Ice cream lovers, listen up! If you haven't tried banana "nice cream" yet, get ready because your dessert world is about to be rocked.
By simply freezing bananas in small slices and blending, you get a rich, creamy and sweet mock "ice cream" made from only bananas. One try and you'll be impressed with how similar the sweetness and texture are to real ice cream.
All you need is ripe bananas that you chop into small pieces and freeze and a powerful blender or food processor.
Try out our recipe for salted banana peanut butter with chocolate sauce or experiment with adding your own flavors. (Like mint, chocolate chips, strawberry or cocoa powder)
If you're looking for a cold treat to quench your sweet tooth craving this summer, this healthy alternative will be your new favorite.
Salted Banana Peanut Butter with Chocolate Sauce (serves 2)
3 Ripe bananas frozen in very thin slices
2 Tbs. Organic unsalted peanut butter (no additives)
1/4 – 1/2 tsp. sea salt
1/2 Tbs. coconut oil
2oz. quality dark chocolate (70% or higher) Or 2 Tbs. Cocoa powder
Instructions
Blend frozen banana slices and peanut butter in a blender or a food processor on lowest setting until creamy, adding salt to taste (if not blending well, wait a couple minutes to let them defrost a little and they will blend better. I like to leave a few chunks too. You could also add a Tbs. of non dairy milk.)
In a double boiler (or carefully with a small pot or in micorwave) slowly melt coconut oil and chocolate
Scoop ice cream into serving bowls and pour chocolate sauce on top
Top with chopped nuts, extra chocolate, shredded coconut or toppings of choice