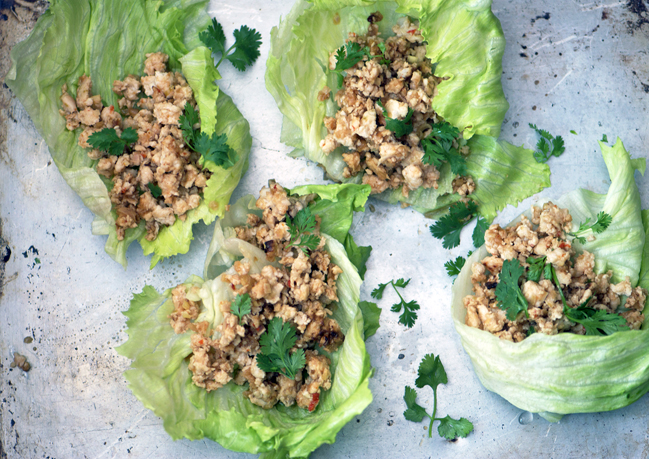 This quick and easy meal also goes by the name of Larb, a thai inspired minced meat salad. It couldn't be a more simple and flavorful meal for weeknight dinners.
We love using ground chicken in this recipe, but feel free to use your favorite ground meat. Vegetarian? Check out this tofu version here.
Thai Chicken Larb (serves 4)
Ingredients
1.5 lbd. ground chicken (can sub ground turkey, pork, beef, lamb)
2/3 cup fresh lime juice
1/3 cup fish sauce
1 tablespoon honey
2 teaspoons chile sauce (like Sambal Oelek or Sriracha)
1 cup thinly sliced scallions (whites and greens)
1 Tbs. minced chili of choice (jalapeno, serrano)
1/2 cup minced cilantro leaves
1/3 cup minced mint leaves
salt
1 head of butter lettuce or romaine to serve
Directions
Whisk together lime juice, fish sauce, honey and chile sauce. Set aside.
Heat large skillet on stove. Add a small amount of olive or coconut oil to bottom of pan. Once hot, add ground chicken and brown. As the chicken is cooking, stir occasionally to break up the meat.
Once almost finished, add scallions and chili and cook 2-3 more minutes.
Turn off heat and while meat mixture is still hot, mix with lime juice / fish sauce dressing.
Mix in minced herbs.
Salt to taste.
Serve in lettuce cups.
Recipe adapted from epicurious. Photo from Bon Appetite.