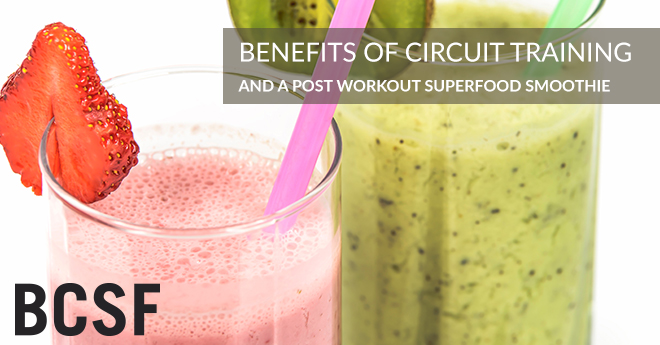 Circuit training, much like we practice in boot camp, is an excellent way to keep your workout interesting while maximizing calorie burn and fat loss. We work outside during our BootcampSF workouts, which gives you the added benefit of soaking up the sun's rays to boost Vitamin D and put you in a good mood.
There are other important benefits to circuit training; we're able to achieve intense results in a relatively short amount of time. Our workouts last an hour, which is an optimal amount of time to combine cardio, resistance training and flexibility. You're able to challenge your entire body during a class, and it's proven that high-intensity interval training combined with lifting increases metabolism and leaves you with an awesome after burn effect that causes your body to torch calories for hours after the workout has ended.
According to the European Journal of Applied Physiology, circuit training workouts "prompt a higher degree of post-exercise excess oxygen consumption, or EPOC, than traditional cardio workouts. EPOC refers to the metabolic boost your body retains in the hours and days after your workout, and it can be a significant source of additional calorie burn."
This type of training is also proven to burn more fat by improving insulin sensitivity – this type of training helps keep insulin levels low so that fat can be mobilized and burned.
As with any high intensity workout, post workout nutrition is key to recovery and reaching your fat loss and strength goals. It's important to consume a source of carbohydrates such as a piece of fruit within 45 minutes of completing your work out. Be sure to replenish with a 3:1 ratio of carbs and protein for ideal muscle repair.
We recommend a super food packed green smoothie as a satisfying post workout meal. The raw cacao is full of antioxidants and may help lower bad cholesterol and decrease inflammation. Try out the recipe below and let us know in the comments what you think:
Post Workout Superfood Smoothie
Ingredients:
2 handfuls spinach and/or kale
½ banana
1 Tbsp. raw almond butter
12 oz. almond or coconut milk, unsweetened
1 Tbsp. raw cacao powder
Water as needed
Ice, optional
Directions: Add all ingredients to blender, blend until smooth & enjoy!