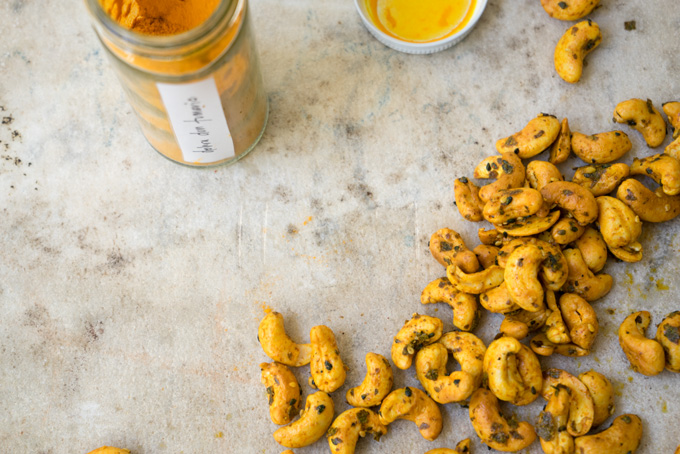 We often talk about what to post workout in terms of macronutrients: how much protein? how many carbohydrates?, ect.  And we've talked about pre and post workout nutrition on the blog before.
But today we're giving you 3 specific foods to start incorporating into your snacks to help you recover and replenish.
Try these nutritious snack ideas when you're recovering from a particularly hard workout. (But we won't tell if you have 'em anytime. They're too good to save!)
Ginger has been shown to reduce muscle pain post exercise. And if it's your joints and ligaments that are feeling inflamed, ginger is also a powerful anti-inflammatory. To incorporate more (fresh) ginger into your diet, try sipping on ginger tea, grating fresh ginger into your salad dressings or adding a 1/2 inch peeled piece to your smoothies or juices.
For a perfect post workout snack make these: raw gingerbread bites
2. Turmeric, the bright yellow spice used in curry, is known as a powerful anti-inflammatory. Did you know that some inflammation is actually a good thing? The body's inflammatory response is what enables our muscles and cardiovascular system to adapt after a tough workout. Without a little inflammation, we would never grow stronger. However, it's important to keep inflammation in check by incorporating rest days and consuming plenty of anti inflammatory fruits, vegetables, herbs and spices. Enter turmeric. Add fresh grated turmeric (it looks like a small root similar to ginger) to soups, stews and sauces.
Try these turmeric roasted cashews with nori for salty, savory snack.
3. Ever drink a sports recovery drink or coconut water and wonder: what the heck is an electrolyte? Electrolytes are important micronutrients found within the body, including calcium, magnesium, potassium, sodium, phosphate and chloride. All of which are lost in sweat. And since these electrolytes are what regulate your fluid levels and hydration, it's important to keep them replenished. The more you sweat, the more electrolytes you need. One easy way to add these nutrients is to swap table salt for sea salt or Himalayan salt (since they contain electrolytes). Another way is to eat more hydrating electrolyte rich foods such as cucumber, celery, watermelon, pineapple or coconut water.
These 3 ingredient coconut water popsicles are a fun, hydrating treat.
Image via 101 Cookbooks.