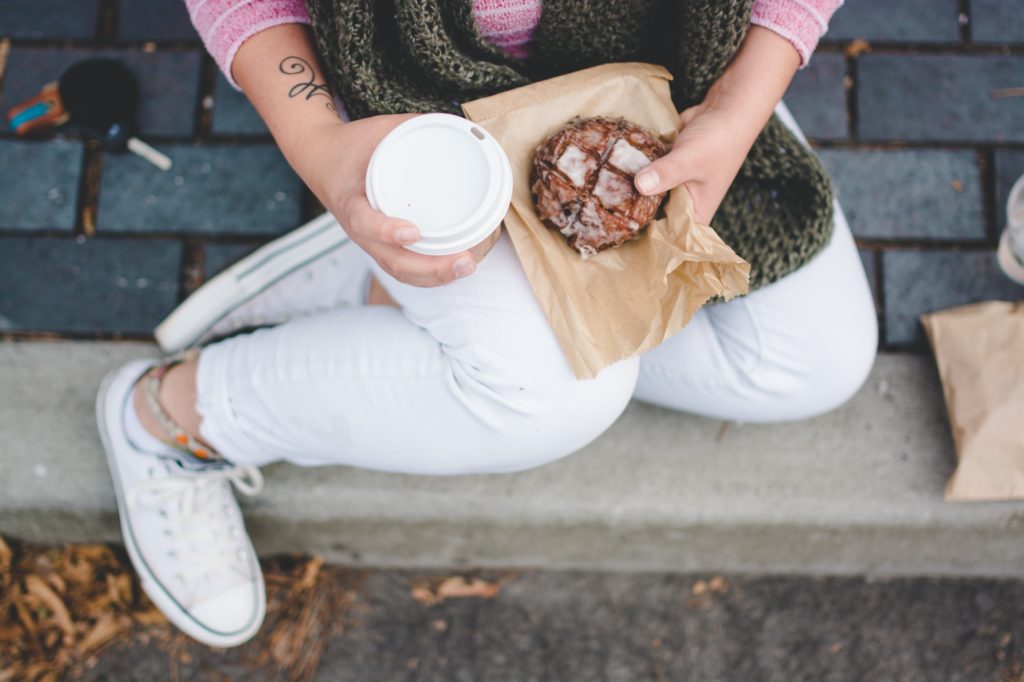 Picture this…
You're starving and running in between work and errands. You don't have a snack and a meal isn't going to happen for another hour or more.
What do you do?
Run to the gas station for chips? No.
Something from the coffee shop? Naw.
Swing by a grocery store? For what? A protein bar? An entire bag of trail mix? With the chocolate chips. We can do better….
It can be hard to find a snack when you're on the run. We can easily end up snacking on treats disguised as snacks (chocolate-y protein bars, premade drinks or coffee shop pastries). When we're on the go or traveling, having homemade snacks, like our mini frittatas , chia pudding or almond bites isn't an option.
Here are 5 easy grab-n-go snack ideas you can find at most grocery stores anytime, anyplace:
1. Green Apple + Justin's Almond Butter
Why: Green apples are lower in sugar than other varieties. Almond butter is higher in anti inflammatory Omega 3's than peanut butter and also higher in minerals.  Eating fat and protein rich almond butter balances the higher carbohydrate fruit. Justin's single serving almond butter is perfect for grabbing and eating on the run.
2. Hard Boiled Egg (from the salad bar)
Why: Eggs are high in protein (about 6 grams per egg) and also contain healthy fats in the yolk. This combo keeps us fueled and full. Grab a pre hard boiled egg from the salad bar and you're on your way.
3: Greek Yogurt + Banana
Why: If you're wanting a heartier snack, this is the one. Greek yogurt offers a bigger volume of food for less calories than most other snacks. We love Siggis single serving Greek yogurt in plain flavor (low in sugar and high in protein) with banana.
4. Olives
Why: Olives make a satisfying, low calorie snack for when you're wanting something salty or savory. Try Oloves single serving packets found at Whole Foods or health food stores. Or if you're at a specialty health food store, grab a couple from the olive bar.
5. Single Serving Protein Powder
Why: Most grocery stores that sell protein powder also sell single serving samples. Pick one up for anywhere from $1-$5, empty into your water bottle and shake. Make sure you read our guide to protein powders, first. It's an easy way to get in some nutrients, without having to spend much time to stop and eat. (This is a perfect one handed snack if you're needing to eat while driving!)